The Show Me Service Volunteer Awards is an annual event held in May at the Missouri Capitol during Missouri Service Day. The goal of these awards is to highlight the amazing service Missourians do daily to make their communities stronger. In order to provide a diverse group of awardees each year, the awards will be presented by region and include age specific awards, national service awards, business awards, and community awards.
Nominations are due by 5pm February 28th. You may complete this paper application and email it mcsc@ded.mo.gov or complete the online version by clicking one of the buttons below .
You may nominate multiple people/organizations. Please utilize one form per nomination.
The awards program will utilize a simplified version of the regional system that the Missouri Department of Economic Development utilizes. The state will be divided into four separate regions pictured below: North/Central, Southern, St. Louis, and Kansas City. Award nominees will compete with only those from their region in their same category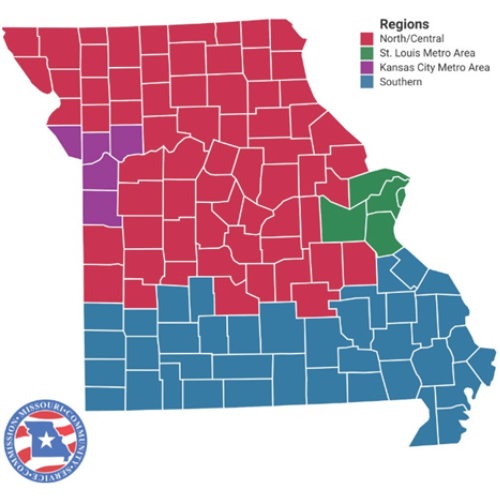 Regions
Red: North/Central
Green: St. Louis Metro Area
Purple: Kansas City Metro Area
Blue: Southern
Seven award categories will be awarded in each region totaling a possible twenty-eight awards annually. Awardees must be Missouri residents, and a majority of the service must have been completed in Missouri. Nominations should be based on service conducted in 2022.
• Youth: Presented to those under 18.
• Adult: Presented to those 18 to 54.
• Senior: Presented to those over 55.
• AmeriCorps Member: Presented to a person who served in either AmeriCorps State, National, NCCC, or VISTA in the past year.
• AmeriCorps Seniors: Presented to a person who served in an AmeriCorps Seniors (Senior Corps) program in the past year.
• Business Excellence Award: Presented to a for-profit business that has provided opportunities for its employees/volunteers to volunteer in the community.
• Community Excellence Award: Presented to a community (municipality or county) that has come together on a specific service project or ongoing service activity.