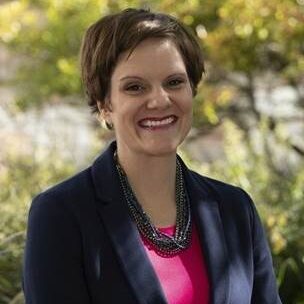 Jamie Crispin is a proud product and advocate of national service. The singular most impactful year of her life was serving as a Team Leader for AmeriCorps NCCC in Charleston, S.C. Immediately after AmeriCorps, Crispin became a Peace Corps Volunteer and taught English as a foreign language in Ukraine.
Crispin has worked on many sides of the national service family. As a Unit Leader, she was part of the team to open the AmeriCorps NCCC North Central Campus in Vinton, Iowa. Later, she managed a Senior Corps RSVP grant and supervised AmeriCorps VISTA members and Summer Associates at a small nonprofit. Most recently, Crispin was the Deputy Director at the Kansas Volunteer Commission where she oversaw the Volunteer Generation Fund grant and enhanced AmeriCorps State member development resources. Before her departure, she was instrumental in the state commission becoming the first Service Enterprise Initiative organization in Kansas.
Crispin earned her bachelor's degree in Spanish from Indiana University of Pennsylvania and a master's degree in sociology from the University of Warwick in England. She is one of 11 individuals to hold the Certification in Volunteer Administration in Kansas. Originally from Erie, Penn., she boasts of marrying her "Ameri-Love" and lives in Topeka with her partner, Nathan, and their two children, August and Abel.