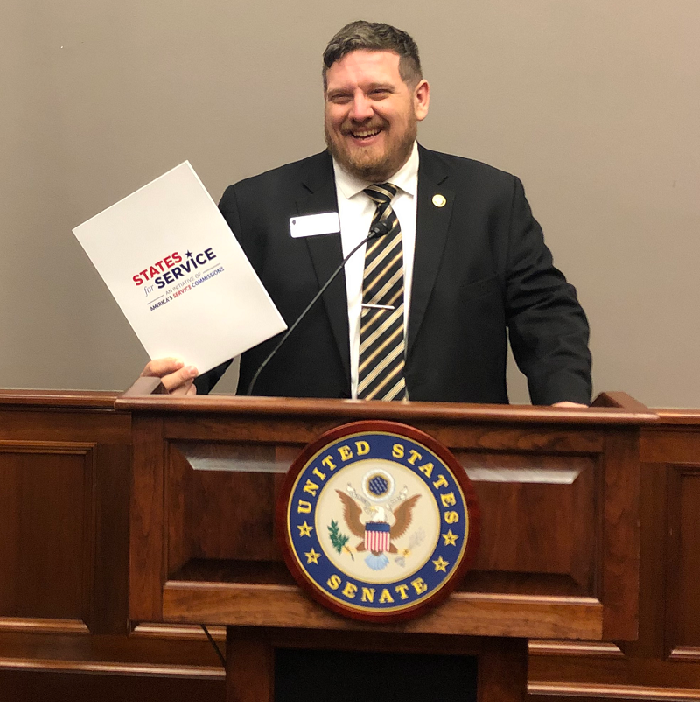 Scott is the Executive Director of the Missouri Community Service Commission, and the Director of AmeriCorps programs in Missouri. He oversees an investment to Missouri communities of nearly $43 million annually. Prior to this, Scott spent 14 years at the Serve Illinois Commission on Volunteerism and Community Service with the last six years as Executive Director. Scott has had the privilege of working with and supporting over 12,000 AmeriCorps Members!
Scott recently served two terms on the Board of Directors for the America's Service Commissions (ASC). He was elected twice to serve as the Vice Chair and Public Policy Chair for the Association and served as the founding Chair of States for Service. In these positions he oversaw policy and advocacy efforts for all state service commissions and promoted national service in statehouses and in Washington, DC. He is also a member of the national Coalition for Service Learning and Missouri's State Mass Care Committee. He previously served as the Program Chair and Host Committee Member for the 2012 National Conference on Volunteering and Service, a member of the Illinois Terrorism Task Force, and a member of Illinois' Attorney General's Charitable Advisory Council.
Scott hails from the Quad Cities area of Illinois and now lives with his wife, Amber, and children, Anastasia, Addison, and Clark, in Columbia. Scott earned his Bachelor of Arts in History with a Teacher's Certification from Western Illinois University in 2006 and his Master of Public Administration from the University of Illinois at Springfield in 2008. He is currently a Doctor of Public Administration candidate at the University of Illinois at Springfield.
An Eagle Scout and avid volunteer, Scott takes great joy from camping, community service, podcasting, and teaching. He was named the 2018 Outstanding Executive Director by America's Service Commissions and one of Springfield, Illinois' Forty Under 40 by the Springfield Business Journal. During the COVID-19 response, Illinois Times readers voted him the local public servant going "Above and Beyond" to give "hope for the future" because he formed a mutual aid group called Springfield Families Helping Families that now includes over 18,000 people working to support their community. He is an awardee of the President's Call to Service Lifetime Achievement Award for over 4,000 hours of volunteer service. He previously served as the President of the Springfield, IL School District 186 Board of Education.
In his personal and professional life, Scott continues to live by his motto, "better yourself by serving others."