Over 1.5 million Missourians volunteer each year!
Each week, we will highlight a volunteer who is
making a difference in their community.
Breanna Warren – June 21, 2021
As an AmeriCorps Member at Leclede Literacy Council in Lebanon, Breanna tutors adults and children with learning disabilities. She is patient, kind, and tenacious when it comes to her students learning and growing. She has empathy for adults who learn differently, and her students can feel that each time they meet with her. Breanna also serves at each of Leclede's monthly food deliveries with Ozark Food Harvest and delivers meals on wheels every Thursday in Lebanon. The community has been enriched by her volunteer work.
Breanna is enriched as well. Prior to her AmeriCorps service, she came to to the Literacy Council as a teen who had left high school and was searching for employment. Since joining AmeriCorps she has earned her high school equivalency and has found full-time housing. Her service has strengthened her and Lebanon at the same time!
Breanna is enrolled in college for the fall and will be getting things done with her AmeriCorps education award!
To learn more about AmeriCorps, visit www.AmeriCorps.gov.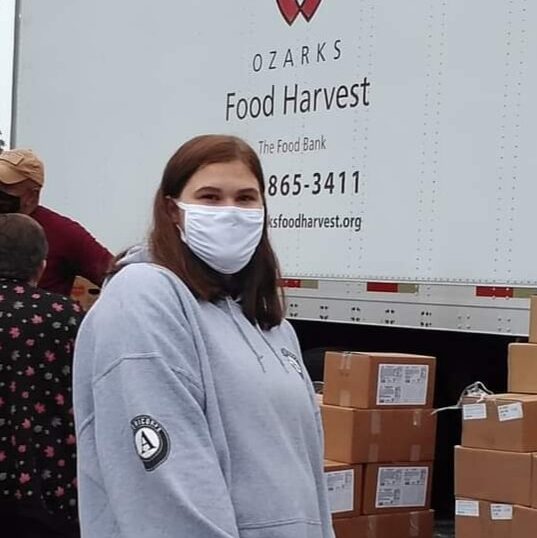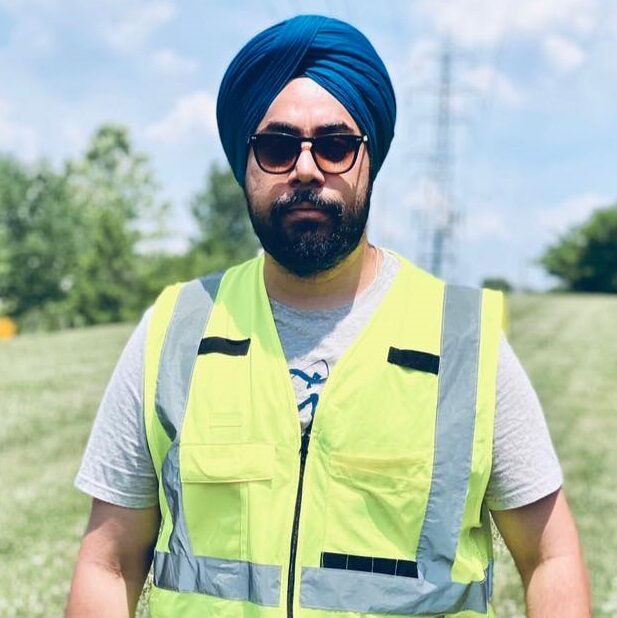 Deb Bhatia – June 14, 2021
As a leader of the non profit organization, Sikhs of St. Louis, Deb Bhatia has become an vital community partner of the International Institute. When IISTL AmeriCorps Members hosted a food giveaway as part of their MLK Day of service, Deb responded immediately to the call for action. He and his organization provided 550 pounds of potatoes, 240 pounds of bananas, 50 loaves of bread, and dozens of pastries and bagel.
Since then he has also mobilized his volunteers to provide over 180 hot meals, hygiene supplies, and non perishable food to New Americans at the International Institute. His organization, Sikhs of St. Louis, has done so much more for those in need during the COVID pandemic throughout the St. Louis area, suppling thousands of meals and hosting a weekly food distribution for anyone who needs it.
Alyssa Werries – June 7, 2021
Alyssa is in her second year as an AmeriCorps Success Coach with Mission: St. Louis. She has a passion for relationship building with her students as well as the volunteers that she recruits and onboards for Beyond School.
Recently, she has spent countless hours talking with teachers regarding 2 specific students who are behind on their assignments. She has created homework trackers and set goals for each of them to help them succeed. She has even taken one of them out on the weekend just to help cultivate a positive relationship with him! She has a positive attitude and is solution oriented when problems arise.
To learn more about AmeriCorps, visit www.AmeriCorps.gov.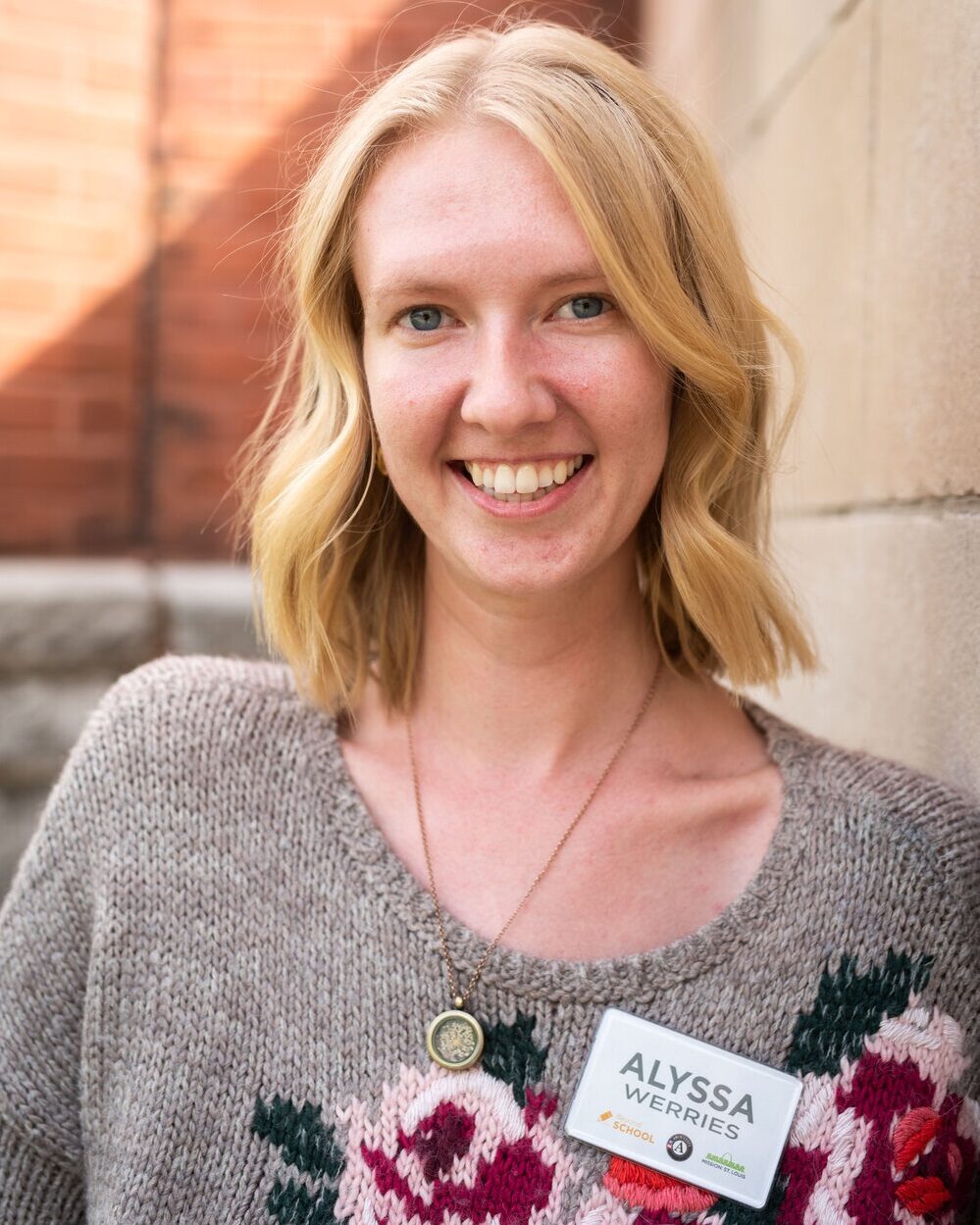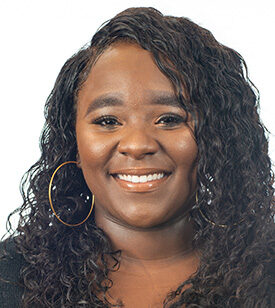 Lauren Fant – April 19, 2021
Lauren Fant is a 2nd year college adviser and a Missouri College Advising Corps AmeriCorps member at Raytown South High School in Raytown, Missouri. Raytown South has operated virtually this school year which has presented many challenges when engaging and interacting with students and families. Every day, Lauren has demonstrated a commitment to service and to supporting her students. She has been creative, dedicated, and persistent in the face of these challenges in order to provide the highest level of support for her students. She has partnered with teachers to visit virtual classrooms, attended student pick-up days to see students, and hosted college trivia sessions. She has worked hard to engage families through email, phone calls, and surveys which has allowed her to connect with over 80 families. Her efforts have resulted in an increase in FAFSA completion at the high school compared to the previous year, even though nationally FAFSA completion rates are down.
Additionally, Lauren is a great member of the team. She brings positive energy and provides encouragement and support to newer college advisers. She is always willing to lead trainings or teambuilding and looks for ways to contribute to the overall effectiveness and morale of the team.
To learn more about AmeriCorps, visit www.AmeriCorps.gov.
Kristi Grimes- April 12, 2021
Kristi Grimes is in her fourth year as an AmeriCorps member with the Waynesville School District. She is truly dedicated to service as she has exceeded the program's expectations by contributing countless hours of extra service despite being a full-time student, a wife, a mom of three, and overcoming numerous personal challenges.
Mrs. Grimes has the heart to serve, and it is evident by all she does to enrich the lives of the children she serves. She is a gift to the Waynesville AmeriCorps program, and they cannot be more proud of her and her accomplishments!
To learn more about AmeriCorps, visit www.AmeriCorps.gov.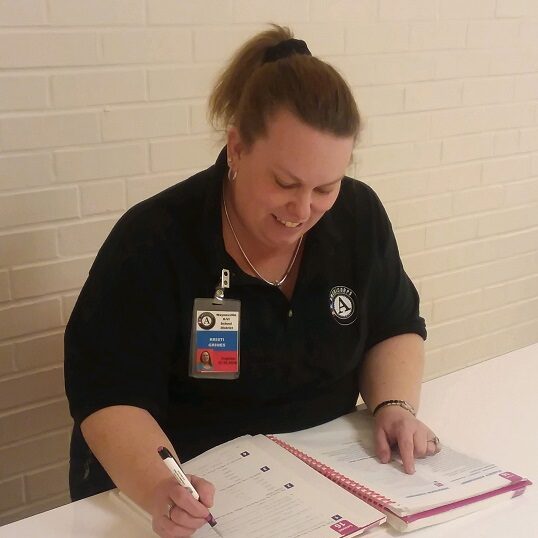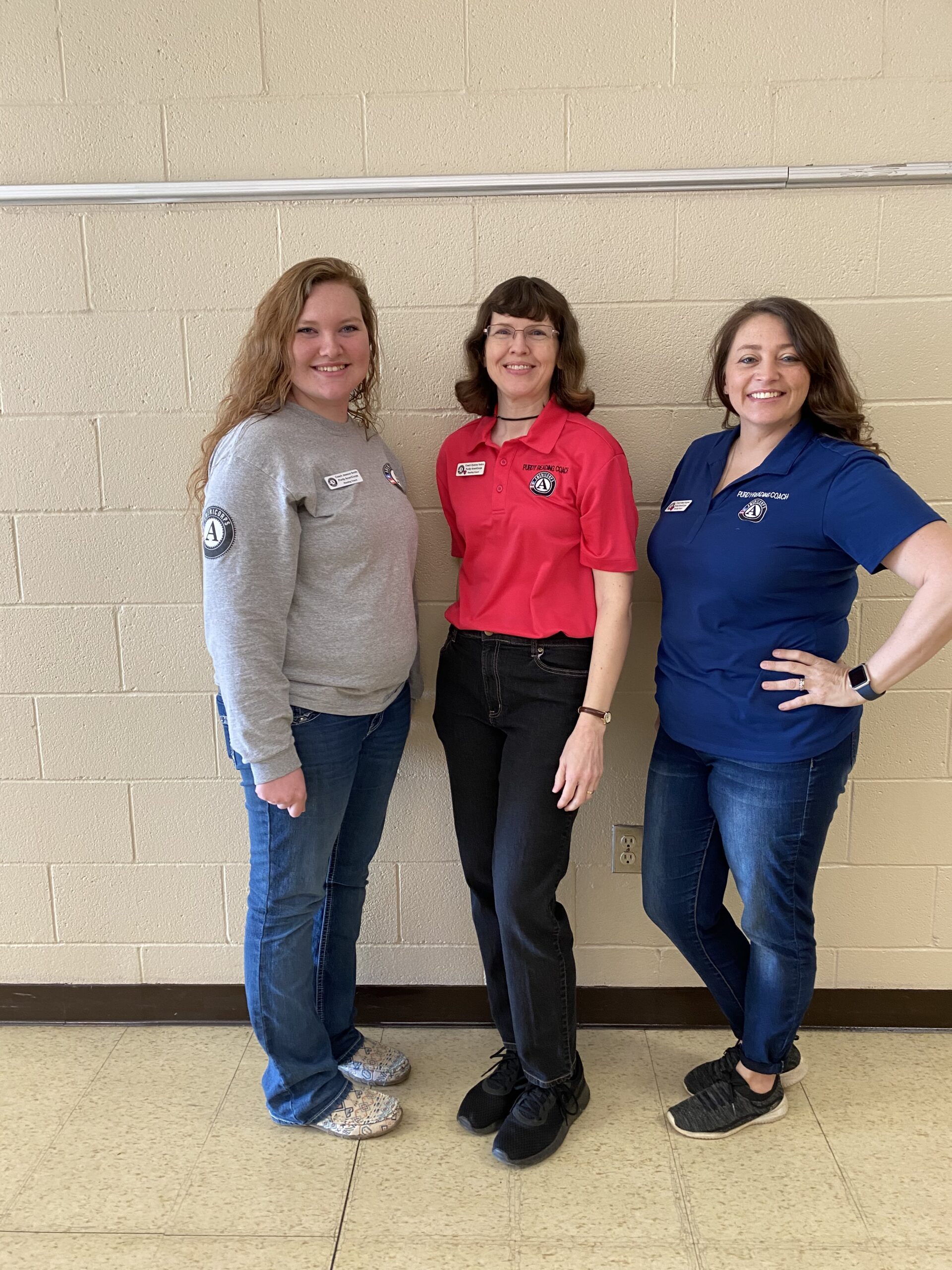 Jessica Smith, Dyanna Yarbro, and Misty Hughes- April 5, 2021
This week, we have a volunteer team! Jessica Smith, Dyanna Yarbro, and Misty Hughes are wrapping up their 4th and final year of service with the Purdy AmeriCorps Reading Coaches.
These wonderful Members have not only made a difference in the lives of the elementary students they have tutored, but are also leaving their permanent handprint of love on the program itself. They have created materials, tools and guidance for those who will come after them, ensuring that the children will benefit from a strong, sustainable, effective and enduring program for years to come. Well done, ladies, you will be missed!
To learn more about AmeriCorps, visit www.AmeriCorps.gov.
Ashley Estrada – March 29, 2021
Ashley Estrada, was a true rock star during her service with Child Abuse Prevention Association (CAPA) AmeriCorps in 2020. Ashley provided trauma-focused therapy on a weekly basis for 9 children. She excelled at the challenging task of providing play therapy for kids in a virtual setting.
Ashley not only provided skilled services for kids, she also created a support system for CAPA AmeriCorps Members who were learning to provide virtual therapy for the first time. She did this by sharing suggestions and ideas with her fellow AmeriCorps team. And she provided observation opportunities in order to help others become more comfortable in the virtual therapeutic setting. Lastly, she organized a weekly Peer Support Group Zoom call which has continued on a weekly basis.
Ashley concluded her AmeriCorps term in December 2020. Her Supervisor shares that she was a skilled therapist as well as timely, responsive and thorough. Ashley stood out at CAPA and we want to celebrate her commitment to service and to excellence.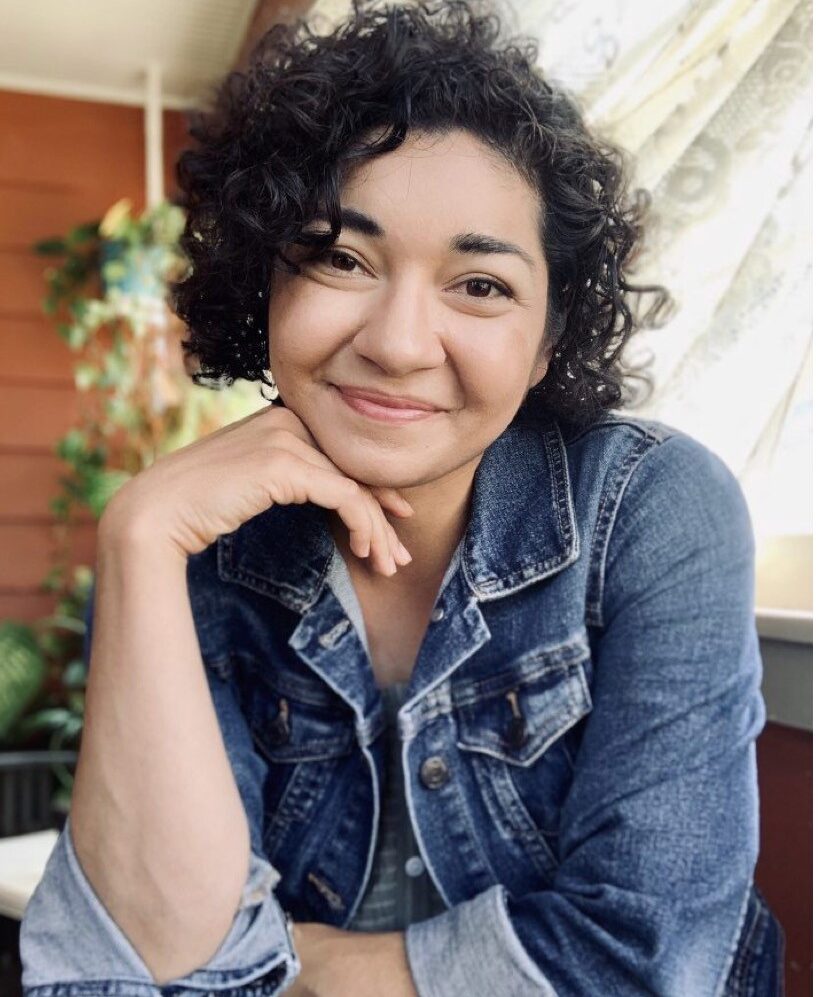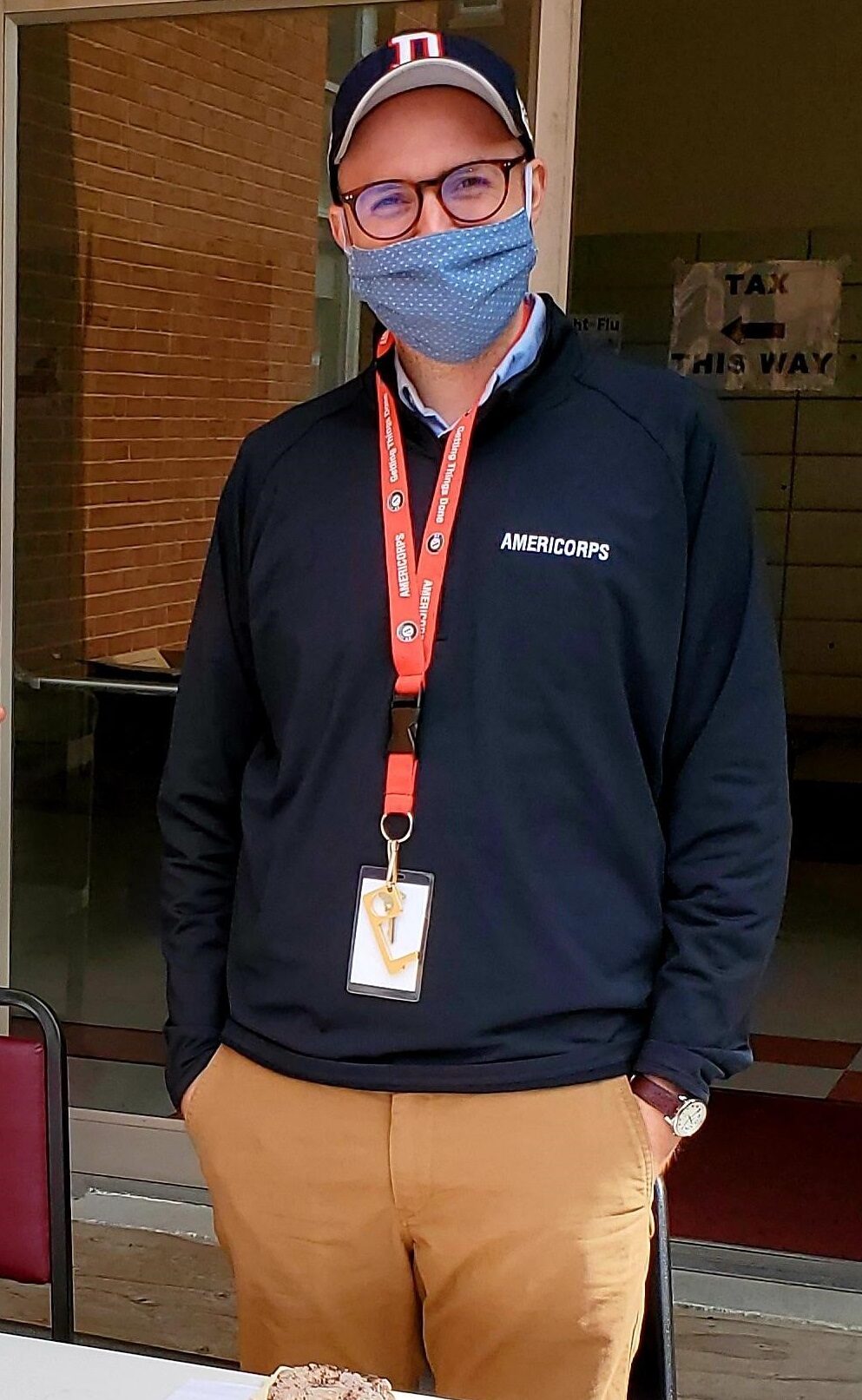 Austin Smith – March 22, 2021
Austin Smith is an AmeriCorps Member with International Institute of St. Louis.
Despite the difficulties of providing educational opportunities of learning English and citizenship preparation to foreign born clients in a pandemic while completing the duties that were performed by two AmeriCorps members the year before, Austin continually rises above. His innovative ideas, flexibility and skills as a videographer have changed the way clients are attending class.
He has shifted services to virtual and outdoor platforms providing a safe way to learn. Austin has shown that we can overcome barriers and meet people where they are while still providing high quality services. His professionalism, endless enthusiasm and adaptability are exactly what AmeriCorps is all about. He does all of this while preparing for his future as a Foreign Service Officer, taking the GRE, LSAT and applying for graduate school at the same time.
They say AmeriCorps takes you places, but the places that Austin has taken the International Institute are truly amazing!
Pastor Bill Foglesong – March 15, 2021
If there's service happening in Eldon, Pastor Bill Foglesong is sure to be there. Pastor Bill moved to Eldon with his family when he became the newly called minister to Eldon First Christian Church in April of 2014. Since arriving in Eldon, Pastor Bill has served with numerous service organizations including the Mustang Packs Board, the Eldon Lions Club, Serve Eldon, and the Eldon Food Pantry.
Pastor Bill says his favorite part about serving in Eldon is, "Seeing lives changed/affected by joining with others in the common help and working toward assisting the larger community especially when an item is pointed out like the fire hydrants needing repainted and the city hasn't had the time or finance to accomplish it; or a family who cannot take care of their yard needs help cleaning it up; or most recently, when the ice storm came through and left many tree limbs down and we were able to coordinate and help the city by going around and helping remove the limb debris for several families who asked for our help."
He says, "The biggest satisfaction and validation for what a strong community we are was evidenced during the weeks and months that followed the 2019 tornado that devastated parts of our hometown."
Pastor Bill's service to the Eldon community does not go unnoticed. The community is beyond grateful to have him as a servant leader in their small town.
Tatiana Anthony – March 8, 2021
As an AmeriCorps Success Coach with Mission: St. Louis, Tatiana always ensures the goals of her students are being met. She spends time getting to know each student individually and finding ways to best support their needs.
Most recently, Tatiana spearheaded and encouraged true growth within the overall program by leading a committee of peers to host a series of events for Black History Month. She showed great aptitude for organization, scheduling, and planning during the entire process. She was intentional in every way, sending weekly updates to students and families. The events were a wild success with students feeling a sense of community and pride about the celebration of their culture!
To learn more about and AmeriCorps and how to join, visit www.AmeriCorps.gov.
Hannah Fox – March 1, 2021
Hannah is an AmeriCorps Member with Healing Action. She has been instrumental in helping provide services to survivors of sex trafficking and commercial sexual exploitation in Saint Louis. She has worked with passion and dedication to assemble bi-weekly food boxes, to deliver basic needs, and to encourage and support survivors.
Recently, Hannah spearheaded a Valentine's Day project to help the people Healing Action serves feel valued and loved. She gathered materials and launched an initiative with other team members to assemble gorgeous candy bouquets to be delivered to survivors. Hannah's creativity and heart for others fuels her service. She is the perfect example of leadership through service!
To learn more about and AmeriCorps and how to join, visit www.AmeriCorps.gov.
Nicolas Jones – February 22, 2021
Nick is a third year AmeriCorps college adviser with the Missouri College Advising Corps (MCAC) and has made a significant impact. In his position, Nick always looks for ways to better serve his students at STEAM Academy at McCluer South-Berkeley High School. He has collaborated with the local community college to establish the Emerson STEM program within his school. With the overall goal of the program being to increase college access, Nick has made it possible for his students to accumulate college credits free of charge while still in high school. From distributing program applications, meeting with students and parents, and creating class schedules to include dual enrollment courses, Nick is solely responsible for the program and takes great pride in the opportunity offered to his students. He is currently working on a handbook for the program so it can be sustained after his term of service is complete.
Nick is just as helpful on the MCAC East Region Team. He serves as a peer mentor, hosting weekly calls with 1st-year college advisers to help them set goals and adapt effective advising methods for their own partner schools. Nick also serves as a member of the National College Advising Corps CEO's Advisory Council. The council provides an opportunity for advisers to inform the national organization's approach to tackling issues/concerns among the national network.
To learn more about and AmeriCorps and how to join, visit www.AmeriCorps.gov.
Maddie Bruegger – February 15, 2021
Maddie is an AmeriCorps member with The Literacy Lab. As a literacy tutor she works with students daily to reach grade level in reading. Maddie is a team player who has quickly become an integral part of the cohort and a source of positivity to others.
Over Thanksgiving break many of her fellow AmeriCorps Members played it safe by staying home to prevent the spread of Covid. Maddie didn't want anyone to feel left out or disappointed about not seeing family so she dropped off home cooked meals to Member's porches!
She not only goes above and beyond for her fellow service members but also for her students. She's developed positive relationships with her students and families who are excited to see her every day! It has been a joy to watch Maddie take full advantage of her service year to make a positive impact on others and the community.
To learn more about and AmeriCorps and how to join, visit www.AmeriCorps.gov.
Makayla Watson – February 8, 2021
Makayla, is a City Year Kansas City AmeriCorps Member, and she serves in a virtual 2nd grade classroom, supporting a classroom teacher and 30+ students in their learning. She makes phone calls to help get kids to class on time, and her students have made great strides in their attendance. In addition, she pulls students into breakout spaces to help them catch up on their reading, solve technology issues, or conduct social-emotional learning check-ins. She has been a consistent, positive presence in a year full of change, and she has done so while also fully supporting her peers on the team!
To learn more about and AmeriCorps and how to join, visit www.AmeriCorps.gov.
Jeff Wyrick and Jordan Lebahn –
February 1, 2021
Jeff Wyrick and Jordan Lebahn are paramedics who serve in the St. Joseph area. When their company asked for volunteers to work extra time supporting a COVID-19 vaccine clinic, they stepped up.
"So for me to be out here able to help the community to give back to the people that help to pay for us to do what we do… just feels good," said Jordan.
"Just getting to see smiles on people's faces. It does give people hope and you kinda take a little bit of that smile away with you as you go," Jeff said.
All across Missouri, people are giving their time to support the vaccine effort, and with people like Jeff and Jordan helping, we will get through this!
-Portions of this story and photo originally published by KQ2.
Hannah Grigaitis – January 25, 2021
Hannah always approaches her AmeriCorps service at College Bound St. Louis with a fervor and grace. Despite COVID-19, and the need to work remotely, Hannah hasn't strayed from a challenge.
Hannah has developed a speaker series that is open to all of her students. She has recruited College Bound Alums, as well as other professionals in her community to come and speak to students about their college and career paths. This has been especially helpful to her students, because Hannah has developed different series on different careers. From engineering to nursing to attending a historically black college or university (HBCU) paths, students have had the ability to pick a series that really interests them.
Hannah has been nothing but passionate and optimistic through the planning and implementation of this series. She is hardworking and joyful through the service that she does, and College Bound is lucky to have her!