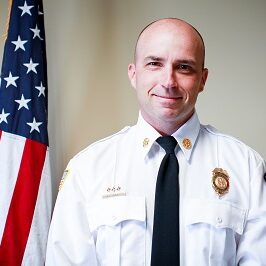 Skip Stephens has been a first responder for 26 years including 21 years with Cottleville Fire Protection District where he serves as Fire Chief.
Skip is a graduate of Vision St. Charles County Leadership and holds a Bachelor of Science in Safety Management and a Master of Arts in Management and Leadership. He has been honored with Elk's Lodge Firefighter of the Year Award in 2009, Cottleville Weldon Spring Rotary Club Vocational Award in 2012, Cottleville Firefighters Outreach Leadership Award in 2014, and from the Cottleville Weldon Spring Chamber of Commerce, he received the Above and Beyond Award in 2016 and Board Member of the Year Award in 2018.
Skip was a founder of Cottleville Firefighters Outreach in 2008 and led the collaboration of firefighters and community volunteers for eight years as CFO's Executive Director as they developed new programs and completed projects that impacted countless people in the community. Skip dedicates his life to serving other people and has volunteered as a Court Appointed Special Advocate for abused or abandoned children, as Program Director for Protégé, Vision Leadership's professional mentorship program, for Community Living, Connections to Success and many other causes.